Waihōpai / Invercargill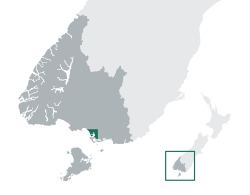 Invercargill, Waihōpai, is the regional capital and commercial hub of Southland. Founded in the 1850s, it is New Zealand's southernmost city - and one of the southernmost cities in the world. Numerous heritage buildings give the city a charming old-world quality, while the magnificent Queens Park impresses with its sprawling 80 hectares of beautifully kept gardens, wildlife habitats, playgrounds and sports areas.
Fondly dubbed the "City of Water and Light", referring to the long summer daylight hours, frequent appearances of the Aurora Australis (Southern Lights), and the city's position beside the Waihopai River estuary, Invercargill has plenty of character and a friendly, laid-back atmosphere - except when it comes to celebrating Southland's obsession with classic motoring!
It all started with local legend, Burt Munro, setting a land speed record in 1967 on his Indian Scout Motorbike. Now recognised as New Zealand's "Classic Motoring Capital", the city boasts an impressive vintage truck collection, a world-class motorcycle display and more!. 
Wide streets in a gridded layout make it easy to find your way around the city to enjoy the excellent cultural attractions, outstanding nature reserves and parks, and lively cafes, restaurants and bars. There's something for the whole family in Invercargill!