DISCOVER STEWART ISLAND RAKIURA
Soaring above the rugged south coast of the South Island, the ultimate island adventure on Rakiura Stewart Island – New Zealand's third largest Island – is just a 20-minute flight from Invercargill, where you've connected from your direct flight from Auckland, Wellington or Christchurch. If seaspray in your hair is more your style, sit back and take in the spectacular sights during a private ferry ride across Foveaux Strait from Bluff.
As soon as you arrive you'll get it - a calm and unhurried feeling as the island's natural ambience invades your senses.
Jump aboard a water taxi at Oban in blissful Halfmoon Bay — and take in the amphitheatre-like surrounds of eclectic homes and cribs nestled in the bush. Relax and enjoy the ride around the stunning north-eastern Rakiura coastline spotting sea lions, seals and exotic sea-birds on the way to your exclusive catered lunch at Port William Hut.
The ultimate fishing experience awaits you as the renowned Gravity Fishing crew leads you on a 'Hook to Plate' journey, harvesting blue cod from the pristine waters around Rakiura. Gravity has a focus on ethical, sustainable and environmentally friendly fishing with a strong Māori cultural element, and can customise a unique experience for your delegates.
Back on shore, it's time to sit back with refreshments and marvel at the skills of a world-class chef as they take your catch and transform it into mind-blowing dishes in front of your eyes.
Head back to Oban for a fantastic night of entertainment, or enjoy a tranquil night at the well-appointed hut, with a sunset you'll never forget.
Team feel like a bit of a canter? Chuck on the hiking gear and hit the track for an eight-kilometre stretch back to Lee Bay. It's a leisurely hike suitable for most people featuring stunning coastal views, swing bridges and picturesque sights such as Little River. The track brings you to the impressive chain link sculpture commissioned to commemorate the opening of Rakiura National Park. For those looking for a longer walk, the Rakiura Track will take you through 32 kilometres of bird song, isolated beaches and scenery that has barely changed in a thousand years.
For the more adventurous, jump on a helicopter and head for the remote reaches of the Ruggedy Ranges, or fly in and spend an afternoon dining at and exploring the epic expanses and historical nooks and crannies of Masons Bay.
Closer to Oban, design your own Sea and Sky experience combining two unique island offerings.
Sample the finest seafood fresh from the ocean with sensational fresh or Stewart Island smoked salmon, Bluff oysters and mouth-watering blue cod, prepared the way you love it courtesy of a top southern chef.
Enjoy your kaimoana feast while taking in an endless canvas of stars scattered across the sky as part of a bespoke stargazing experience — in the expert hands of one of Rakiura's dark sky tour operators. Rakiura Stewart Island's remote location will ensure your viewing experience is of an exceptional standard, it was rewarded in 2019 - being declared an International Dark Sky Sanctuary.
Maybe an exclusive Kiwi-spotting experience is more to your team's liking, where it's the only place in New Zealand your clients can see a kiwi in the wild.
Create a tailor-made tour for your team in search of the iconic flightless Rakiura Tokoeka Southern Brown kiwi. Learn about Ulva Island, a predator-free sanctuary, and more rich island history as you enjoy canapes, or maybe (season depending) a sunset picnic with champagne. Speaking of bubbles, Champagne breakfast anyone?
More than 85% of Rakiura Stewart Island is a national park and opportunities abound for eco-friendly activities. From tree planting to expert talks on conservation, sustainability and ecology, to donations to environmental trusts — enriching nature-based experiences and actions are at your fingertips. Cultural and art-based experiences and garden tours can be arranged too.
Rakiura Stewart Island really is the ultimate island adventure for your team - so let your imagination run wild.
Incentive Inspiration
Discover Stewart Island and pair adventure with leisure for a once-in-a-lifetime experience.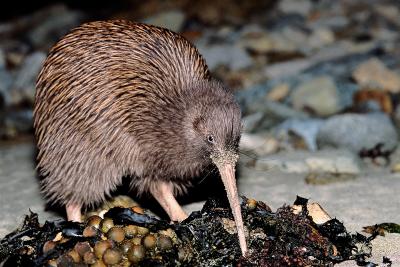 Take advantage of Beaks and Feathers' exclusive access on private land to spy the elusive brown kiwi in its natural habitat. Watch close by as kiwi come out to forage under the cover of darkness. Specialising in small group experiences, add in an evening picnic and wine for an unforgettable night.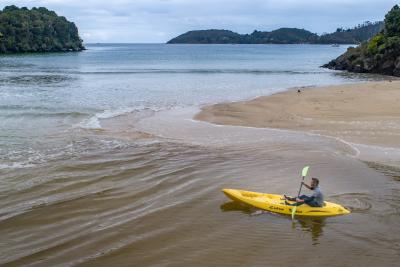 Explore the pristine waters, forest-shrouded inlets, and golden sandy bays with Phil's Sea Kayaks. Soak up this natural wonderland from a unique perspective, and capture intimate, life-long memories to treasure.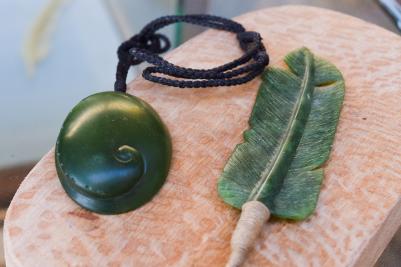 Craft your very own pounamu keepsake while enjoying stunning views of Halfmoon Bay and Foveaux Strait. Join artist Dave Goodin, who has worked with Sir Peter Jackson, who will teach you how to carve the precious, treasured stone.
---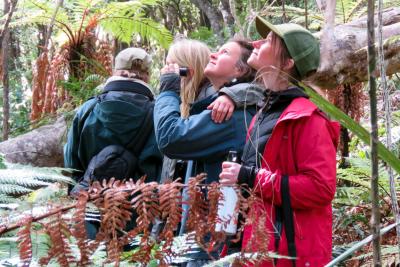 Discover a wilderness experience like no other. Get up close to nature, wildlife and scenery with Ruggedy Range's off-the-beaten-track wilderness adventures. Kiwi spotting, guided walks, boat cruises, wildlife photography tours, you name it, there's a Ruggedy Range experience for you.
---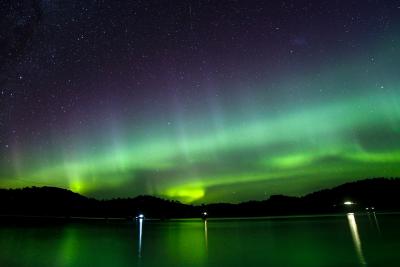 See stars, planets, and faraway galaxies as never before through a powerful telescope and binoculars while reclining in comfort in a 'moon' or 'zero gravity' chair. Twinkle Dark Sky Tours presents our brilliantly clear southern night skies showcasing our solar system and the larger cosmos. Keep warm and snug under a blanket while enjoying the greatest show off earth, while feasting on your customised, evening picnic.
---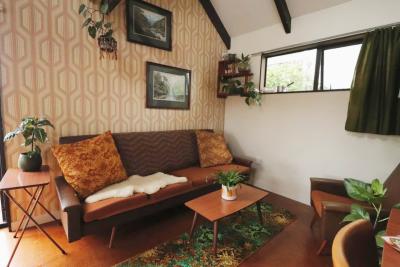 Snug by name and by nature, relax among the trappings of a rustic former museum, now home to the country's southernmost café - the Snuggery. Indulge your retro yearnings in the 70s-like surroundings, modelled on an old school crib (bach). Laid-back, private dining experiences are a specialty.
---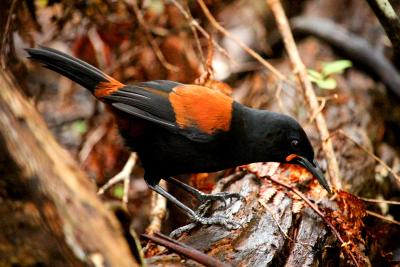 Discover unique, rare and endangered birds and plants with Ulva's Guided Walks. Flexible, private tours allow you to fully experience and appreciate this special sanctuary, where kiwi roam, South Island saddleback tieke swoop by and yellowhead mohua dance around you. It truly is an experience not to be missed.
---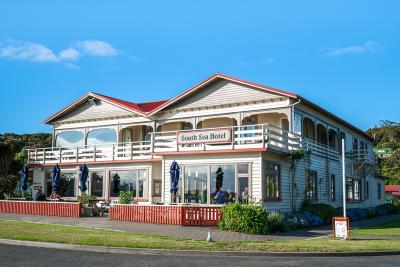 Almost as famous as Prince Harry - Rakiura Stewart Island's iconic pub the South Seas Hotel is renowned for its hospitality, blue cod dinners and world-famous quiz nights. Savour the world-renowned, ocean-fresh, blue cod as you ponder the scene where Prince Harry and his Ginger Ninja teammates placed second behind his team of bodyguards in the quiz.
Rakiura Stewart Island Operators
Explore pristine beaches and hidden inlets with our Stewart Island operators below.
Experience something amazing with Beaks & Feathers' guided walks on Ulva Island and Stewart Island. Our locally owned and operated business caters to small groups, meaning you'll have a better experience as you are…
The Bunkhouse is an historic Whaler's Base building located on Stewart Island. Visitors to the Island, are now able to view this unique building and find out about its history, as well as have time to watch A…
New Zealand's Ultimate Fishing Experience Gravity Fishing Experience pairs intrepid style fishing trips with a special focus on food that offers you an authentic fishing and foodie adventure in and around the…
Meet our local wildlife up close and personal on this fully commentated 1 hour cruise around the stunning Southern Bays of Paterson Inlet. Explore the coastline of the Ulva Island bird sanctuary, The Neck and Big…
I offer a range of half day and full day sea kayaking experiences, from exploration for the beginners in the pristine clear bays of Paterson Inlet, to advanced sea kayaking expeditions for experts. I am an…
A most enjoyable and exciting journey into the 3D realm of carving the strongest stone in our world. Make your own jade treasure from your selected piece of beautiful New Zealand Greenstone here on Stewart…
Explore picturesque Stewart Island in style on our eco-friendly electric bikes. Stop at your leisure and have the time to walk to more remote destinations such as Horseshoe Point, Little River, Fern Gully or Ackers…
Our primary service is flights to Stewart Island; we can have you between our Bluff Heliport and Stewart Island in just minutes. Our thrilling and affordable island-hopping option allows you to travel in comfort and…
The South Sea Hotel is a Stewart Island icon, with a strong footing in Island life, both past and present. Our hotel has a fully licensed bar, restaurant, hotel and motel accommodation. Situated in the middle of…
The Snuggery is an old museum building that's been turned into a cozy café for breakfast or lunch. On Saturdays they are open for dinner as well. This homely café is a great spot for a fresh coffee, homemade bread…
Come and explore Stewart Island's Dark Sky Sanctuary with Twinkle Dark Sky Tours! From craters on the moon to the center of the galaxy, a Twinkle Dark Sky Tour will show you some of the most stunning sites in our…
Ulva's Guided Walks is one of the original bird watching companies at Stewart Island, locally owned and operating since 2000. Our speciality is small personal tours at unique locations. We offer half day bird…
Murihiku Southland and Te Rua-o-Te-Moko Fiordland are emerging hotspots for incentive groups. Start here to create your incentive itinerary.