Places to Visit in Murihiku Southland
For those who want to get off the beaten track, Murihiku Southland is the ideal place to visit. One of the largest regions in New Zealand, Southland's vast array of lakes, rivers, mountains and open plains make it a place of incomparable and unique beauty. Its rugged coastline, stretching a staggering 3,400 kilometres, is one of Southland's most treasured assets. Mostly free of development and home to countless species of native wildlife, it invites visitors back to nature in tranquil surroundings.
Although visitors traditionally come to Southland for its landscape, they stay for its people. The combination of friendly locals, serene surroundings and wide-open spaces make for a great opportunity to find kinship and restore the soul. This is where memories of great adventures can be made.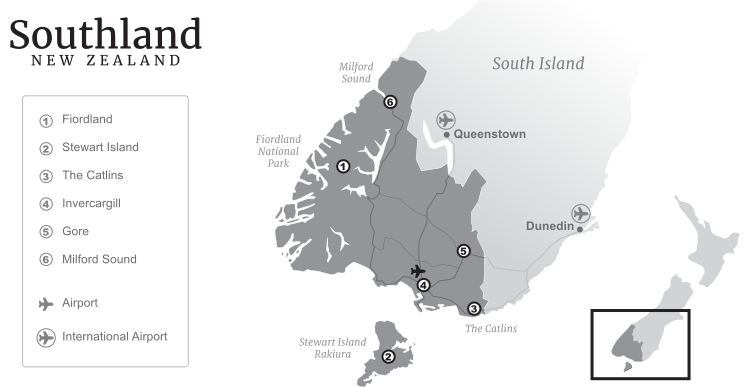 Waihōpai Invercargill is the regional capital and commercial hub of Southland. Founded in the 1850s, it is New Zealand's southernmost city - and one of the southernmost cities in the world. Numerous heritage…
Te Rua-o-te-Moko Fiordland is a place of extraordinary scenic beauty. One of New Zealand's oldest tourism drawcards, this rugged and remote region offers awe-inspiring landscapes and a wide range of…
Rakiura Stewart Island is the southernmost and smallest island of the three main islands of New Zealand. Just 30km from the South Island, it is a perfect retreat for those seeking peace, quiet, and adventure.
The Catlins, the spectacular coastal stretch between Balclutha and Invercargill, boasts a rugged beauty and untouched quality that is magnetic. Here you'll find a world of native forests fringed by high…
Hokonui Gore District, sometimes referred to as Eastern Southland, boasts an eclectic mix of heritage and culture. Famous for its fly-fishing on the Mataura River, its colourful illicit whisky-making past and…
Southland's port, Motupōhue Bluff, lies thirty kilometres south of Invercargill. The town, which is the southernmost settlement on mainland New Zealand, is home to the iconic Bluff Oyster & Food Festival…
Northern Southland is a beautiful contrast of green, rolling farmland, majestic snow-capped mountains, and tussock clad high country.
Central Southland is 1.5 million hectares of lush, rolling farmland. The district has always thrived on agriculture, although sawmills, flax and linen-flax industries, lime works, brickworks and tile works have all…
Tucked between the towering peaks of Fiordland to the west, the Takitimu mountain range to the north, and the wild ocean to the south, Western Southland boasts spectacular unspoilt scenery and limitless…