Risk Management
A risk assessment and management strategy is essential for effective health and safety planning.
Risk management is crucial for events of all scales to ensure the safety of participants, protect the event's reputation, and minimize financial and legal liabilities.
The risk assessment and management process can be broken down into three main sections:
Hazard Identification
Risk Assessment
Risk Control or Management
Alongside these key elements, a robust reporting and record keeping system is necessary to ensure that any incidents and near-misses are logged and able to be used as learning opportunities for the future.
Tips:
Risk Register
The Risk Register (sometimes called a Hazard Register) is a document where you identify, describe and record potential hazards associated with the running and execution of your event. This document is an essential asset within your overall Event Health and Safety Plan and shows the thought process involved and the considerations that have been made to ensure the safety of all affected parties.
The use of a Risk Register Template can make the Risk Assessment and Management process easier and quicker – download an Event Risk Register Template here.
This template covers the main elements of Risk Assessment and Management, however, your event may have specific circumstances that are outside of the scope of a generic template, therefore treat this as an example template and not a definition of legal requirements in this regard.
You may need to make multiple location-specific risk registers if your event has activities that take place across different locations and times. Alternatively, group hazards by location within one master Risk Register by adding a 'Location' column to your template and include the generic and specific hazards inherent to each location.
Hazard Identification
Break down all activities that will be undertaken at each stage of your event, referencing the specific parties involved, locations and associated hazards of each.
Assess each activity from all relevant perspectives – event staff, contractors, attendees, general public and anyone else who may be affected.
Enter the hazards you identify into the 'Hazard' column of your Risk Register, giving each a unique Risk ID # for easy reference.
Include all stages of your event, from set up through to pack out, and beyond if necessary.
Risk Assessment
For each listed Hazard, describe the associated risk and enter this into the Associated Risk column of your Risk Register. For example, if the Hazard is 'Power cables running across high-foot-traffic areas of the event venue', a description of an associated risk could be: 'Attendees or event staff trip on power cables, causing injury'.
The Associated Risk description should include:

Who is affected (attendees or event staff)
What could happen (trip on power cables)
Outcome of potential incident (causing injury).

Be as descriptive as you need, to clearly outline the risk(s) associated with the hazard.
Multiple risks may be associated with a hazard – give each of these their own Risk ID # if needed.
Use a Risk Assessment Matrix such as the one below to determine the Likelihood and Consequence values, which when multiplied together form an Initial Risk Rating, then enter these risk assessment metrics into your Risk Register.
RISK ASSESSMENT MATRIX DIAGRAMS
| | |
| --- | --- |
| Likelihood | Description of Likelihood |
| 1. Rare | Will only occur in exceptional circumstances |
| 2. Unlikely | Not likely to occur within the foreseeable future, or within the project lifecycle |
| 3. Possible | May occur within the foreseeable future, or within the project lifecycle |
| 4. Likely | Likely to occur within the foreseeable future, or within the project lifecycle |
| 5. Almost Certain | Almost certain to occur within the foreseeable future or within the project lifecycle |
| | |
| --- | --- |
| Consequence | Description of Consequence |
| 1. Insignificant | No treatment required |
| 2. Minor | Minor injury requiring First Aid treatment (e.g. minor cuts, bruises, bumps) |
| 3. Moderate | Injury requiring medical treatment or lost time |
| 4. Major | Serious injury (injuries) requiring specialist medical treatment or hospitalisation |
| 5. Critical | Loss of life, permanent disability or multiple serious injuries |
Likelihood

Consequence

Insignificant [1]

Minor [2]

Moderate [3]

Major [4]

Critical [5]

Almost Certain [5]

Medium [5]

High [10]

High [15]

Extreme [20]

Extreme [25]

Likely [4]

Low [4]

Medium [8]

High [12]

High [16]

Extreme [20]

Possible [3]

Low [3]

Medium [6]

High [9]

High [12]

High [15]

Unlikely [2]

Low [2]

Low [4]

Medium [6]

Medium [8]

High [10]

Rare [1]

Low [1]

Low [2]

Low [3]

Low [4]

Medium [5]
Risk Control or Management
Reference the Hierarchy of Controls table below and consider suitable methods of risk control. Use the most effective control method to bring the assessed risk level to an acceptable level.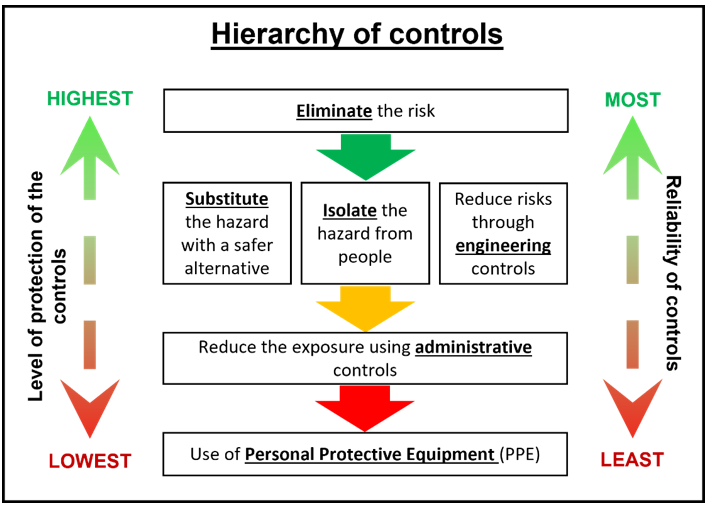 Add your chosen Risk Control Method and the specific Measures to be taken to your Risk Register, as well as who will action this, and when they will need to action this by.
Reassess the Risk Rating of each hazard, with the chosen controls in place.
Enter the Residual Risk Rating into the Risk Register. Multiply the Likelihood and Consequence values to determine the risk rating.
If the Residual Risk Rating is still in the High or Extreme range, strongly consider more effective control methods to bring the associated risk down to acceptable levels. This includes Elimination as no activity at an event is worth endangering lives for.
Integrating The Risk Register into Your Health & Safety Plan
A copy of your Risk Register should be included (as an attachment or appendix) within your overall Health and Safety Plan.
Distribute your Health and Safety plan to all relevant parties ahead of your event.
Monitoring and Reviewing
Your Risk Register should be a live document, updated as any new hazards are identified.
At each Health and Safety meeting, refer to your Risk Register and ensure that it is up to date and takes into consideration any changes to your plans or schedules.
A post-event review can help for future planning to see where any unexpected hazards have arisen and how they may be mitigated in future.
Incident Reporting & Notifiable Events
It is important that you have a system in place for recording any incidents that cause harm at your event. You should also keep a record of any near misses that occur and implement controls to prevent anything similar happening in future.
If an incident occurs that involves serious harm, a death, or is a notifiable event as defined by the Health and Safety at Work Act 2015, you must promptly notify WorkSafe New Zealand.
Notifiable Events may include major injuries, illnesses, hazardous substances incidents, dangerous occurrences, or specific events identified by the regulations. Find out more here: What events need to be notified? | WorkSafe
In the case of a Notifiable Event, it is important to conduct a thorough investigation into the incident. This investigation should be conducted by competent personnel who are knowledgeable about event management and health and safety protocols.
Once the investigation is complete, you should submit an incident report to WorkSafe New Zealand. The report should provide details about the incident, including the date, time, location, description of what happened, individuals involved, and any contributing factors. It should also include any actions taken in response to the incident and recommendations for preventing similar incidents in the future.
Based on the incident report, WorkSafe New Zealand may conduct its own investigation or provide guidance and recommendations.
It is essential to implement any recommended actions or improvements to prevent similar incidents from occurring in the future. Keep records of the actions taken and any changes made to health and safety procedures.
Ensure all staff, contractors, and relevant stakeholders are aware of incident reporting processes and their roles in maintaining health and safety standards.
Useful Links:
WorkSafe New Zealand:
New Plymouth District Council Event Health & Safety Guidelines:
Drugs Management at Large Events
Have you considered?
Are all relevant parties aware of the risks present at your event? Contractors, venue staff etc.
Do you have a physical Hazard Board to display on site that includes the relevant hazards present?
Health and Safety consultants can be engaged to help with the formation of a comprehensive health and safety plan.
If you are in doubt, contact WorkSafe New Zealand for further information and guidance.