DISCOVER FIORDLAND
You descend from perfect blue sky above into Te Anau - your Fiordland base camp - with Helicopters from either Invercargill or Queenstown airport, where you've connected from your direct flight into Invercargill from Auckland, Wellington or Christchurch, or from Queenstown directly from Sydney, Melbourne or Brisbane.
Landing at Fiordland Lodge, you're welcomed with champagne before surrendering to a divine, personalised culinary experience, that creates an unforgettable connection to the land and sea. Soak in the sumptuous views overlooking Lake Te Anau and beyond to Fiordland National Park. Alternatively, fly into Dock Bay Lodge or Cabot Lodge for equally unique welcome functions.
Sit back and enjoy an afternoon experience unlike any other exploring Ata Whenua Fiordland's stunning and remote gems with Southern Lakes Helicopters, before soaring over Tamatea Dusky Sound and Patea Doubtful Sound, two of the most remarkable wilderness areas on the planet. Tamatea Dusky Sound is one of Ata Whenua Fiordland National Park's largest and most remote fiords - only accessible by sea or air. Be the envy of your friends by experiencing this magical and primitive world. You can even touch down and enjoy a sunset drink and gourmet treats while soaking up the awe-inspiring views.
Wing your way back to Te Anau and prepare to be wowed with a Gala Dinner at Fiordland Lodge - featuring an incredible Aerobatic Show performed by two-time national aerobatic champion Ivan Krippner. The Fiordland Lodge team can tailor an experience to suit your clients or delegates, bringing their vast hospitality experience to the table ensuring a truly memorable time.
As sunrise lights up your morning mountain canvas, enjoy an off-the-beaten track experience as you snap up the chance to explore Ata Whenua Fiordland more deeply. The Fiordland Helicopters crew take you into remote Martins Bay on the wild West Coast at the tip of the Hollyford Valley. This exclusive experience allows you to explore breath-taking areas that few people ever get to see, rich in early Māori and European History, with sweeping beaches, podocarp forests, unique birds and lush rainforest.
Experience a BBQ or gourmet picnic with Ata Whenua Fiordland's finest local cuisine matched with Central Otago Wines, before taking to the skies once more to follow the West Coast down to the entrance of Piopiotahi Milford Sound. Fly over Mitre Peak, the 8th Wonder of the World, and Sutherland Falls, New Zealand's highest waterfall. This private and exclusive guided tour will provide you with the history of the area, allowing your clients or delegates to feel a connection to the land.
INCENTIVE INSPIRATION
Experience the magnificent scenery of Fiordland in luxury.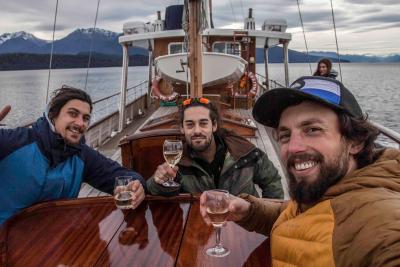 Enjoy canapes and champagne on the deck as you sail across Lake Te Anau on Fiordland Historic Cruises' motor-sailer Faith. Check out the engine room below deck, take a short stroll to the Hidden Lakes, or stop off at a remote beach for team-building activities, before Wings & Water swoops by to transfer you back to Te Anau by seaplane.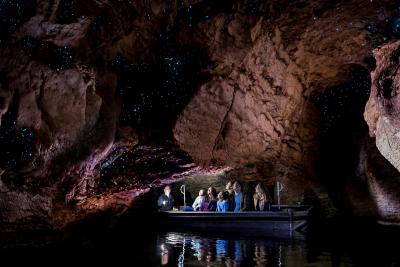 Be immersed in darkness as you drift silently through spectacular glow-worm grottos, in a 12,000 year-old cave. Take in the majestic surrounds of Fiordland National Park as you cruise across Lake Te Anau towards the enchanting underground experience.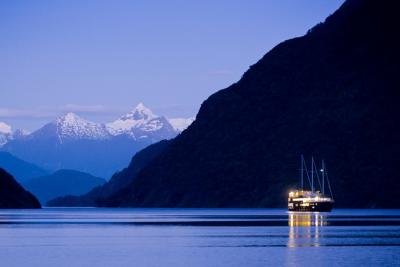 Discover true wilderness in Patea Doubtful Sound through a day or overnight cruise with RealNZ. Breath-taking options including wildlife viewing or dolphin watching, take you to the heart of our unique Fiordland National Park.
---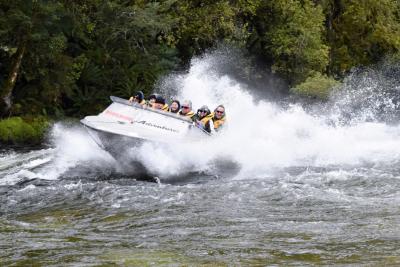 Travel back in time with an exhilarating Wairaurahiri Jet ride across Lake Hauroko exploring the rivers and primeval rainforests of south west Fiordland, all the way to the rugged south coast and back. Be served a delicious lunch on the coast, or travel back with Fiordland Helicopters.
---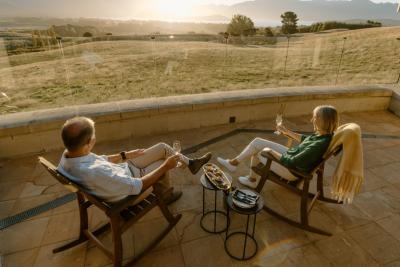 Experience Cabot Lodge with a bespoke on-farm activity, farm-to-plate lunch, and the serenity of a private fishing experience on the picturesque Waiau River.
---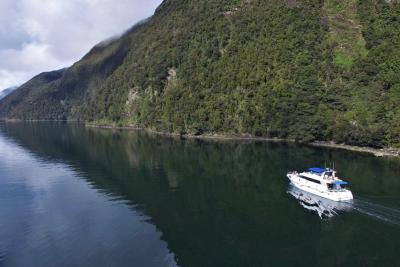 Fish, kayak, and dine restaurant style aboard Fiordland Cruises' Southern Secret, a purpose built luxury motor-cruiser. Fish till your heart's content, pull up crayfish pots, spend some time kayaking, then be wowed as a world-class chef prepares the day's catch.
---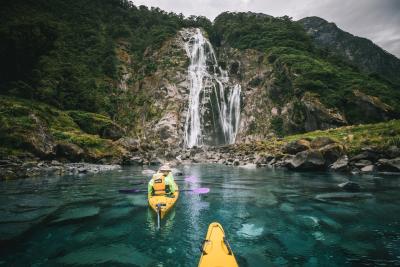 Embark on an epic kayak adventure with Rosco's Milford Kayaks. Experienced guides will keep you spellbound with fun facts and the rich stories of the timeless landscapes surrounding you. Combine this with Trips & Tramps' short-day hike or design your own unique food experience.
---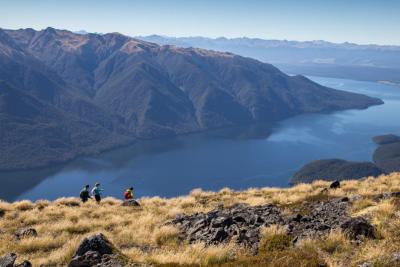 Experience Trips and Tramps' epic back-road ride to Lake Wakatipu, weaving your way past stunning Mavora, through the Von Valley to on to Walter Peak and the lake's shoreline. Enjoy a delicious BBQ lunch at the iconic Walter Peak Station with RealNZ, returning to Te Anau or travelling in style to Queenstown aboard the historic Earnslaw steamship.
---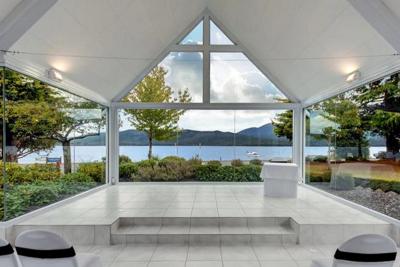 Take time out and experience a high tea, whisky or wine-tasting while surveying the lake views from Distinction Te Anau Hotel & Villas' glorious glass church.
---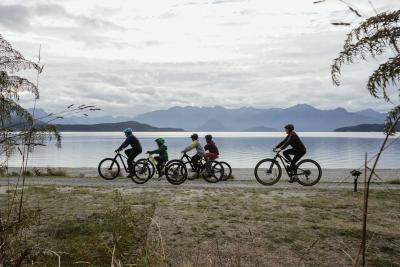 Soak up stunning lake, river, mountain, native bush, wetland and farmland scenery as you pedal the Lake2Lake Trail between Te Anau and Manapouri with Bike Fiordland. For those keen on the view but not the pedalling, jump aboard a Fiordland Jet Wilderness Cruise.
---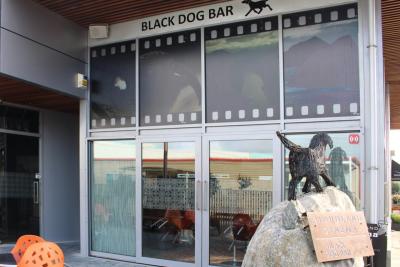 In Te Anau, chill out with a Cocktail and Cinema experience. Arrive at Black Dog Bar for a refreshing tipple and sit back while you marvel at Ata Whenua Shadowlands, a mysterious and evocative cinematic journey, exclusive to Fiordland Cinema.
Te Rua-o-Te-Moko Fiordland Operators
Luxury awaits, dine on locally sourced food prepared by master chefs, or discover Fiordland National Park with some of our Fiordland operators below.
Cabot Lodge, situated on a 2000-acre sheep and deer farm bordering the World Heritage Fiordland National Park, provides a Fiordland experience like no other. The Lodge accommodates a maximum of ten guests, offering…
Situated on the waterfront in the heart of Milford Sound, Discover Milford Sound Information Centre and Cafe is the place to go in Milford Sound for information services and refreshment. We are open for breakfast…
Sometimes called "the Sound of Silence", Doubtful Sound (Pātea) is the deepest of Fiordland"s fiords and the second longest, with three distinct "arms", numerous small islands and several outstanding waterfalls…
Operating since 2004, our award winning cinema has been architecturally designed with innovative interiors by Vesta. It was specially constructed to house regular screenings of the locally filmed movie Ata Whenua…
We invite you to journey into the wilderness and experience untouched New Zealand at its very finest with us. Marvel at steep mountain cliffs surrounding the deep waters of the sound. View incredible scenery…
Take off on your trip of a lifetime with Fiordland Helicopters. Locally owned and operated since 1983 by some of New Zealand"s best pilots, who have been flying in Fiordland and surrounds for over 40 years. Depart…
Join us for an elegant Lake Te Anau cruise aboard our historic sailing ship! Explore the Fiordland National Park while tasting incredible local cuisine and sipping fine New Zealand wines - all the while guided by an…
Fiordland Jet is all about feeling the fun! Get up close and personal with Fiordland National Park on one of our many tours and experiences. We can host large group bookings as well! We are passionate about New…
Our Fiordland Lodge will be your exclusive retreat while you get the opportunity to discover one of the world's most beautiful areas. It is an area where snow-capped mountains, rivers of ice, deep lakes, unbroken…
Wild Wool Gallery is located on our 12-acre farm, Kepler Mountain View Alpacas, where we create unique one-off fine accessories by felting alpaca fibre, silks and merino fibre. Our gallery also stocks a range of…
The Lake2Lake trail runs alongside Lake Te Anau and the east side of the Waiau River to Lake Manapouri. This trail offers a natural, highly scenic and safe recreational experience that will cater for a wide range of…
Sea kayaking is by far the best way to truly discover Milford Sound. Get set to feel the spray kiss your face as waterfalls tumble from hundreds of metres above you, marvel at the ancient rainforest clinging to the…
Experience a mysterious underground world of water rushing through caves, before drifting in silent darkness beneath the luminous shimmer of glowworms. Your trip to the Te Anau Glowworm Caves begins with a cruise…
With 30 years' experience guiding small groups through Fiordland, join us for a truly unique experience of this world-famous area. Our guides are friendly and down-to-earth, you'll love their fascinating commentary…
South Island's ultimate jet boat ride! 94kms of jet boating into the heart of Fiordland National Park and back; travel across Lake Hauroko and down to the rugged southern coast via the wild Wairaurahiri River. Our…
Murihiku Southland and Te Rua-o-Te-Moko Fiordland are emerging hotspots for incentive groups. Start here to create your incentive itinerary.