Hokonui / Gore District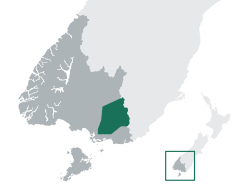 The Gore District, sometimes referred to as Eastern Southland, boasts an eclectic mix of heritage, culture, and industry.
Gore Maruawai, Southland's second largest town, is well known for its connection with country music, having hosted the annual national country music awards for 36 years. The town also presents the impressive Eastern Southland Art Gallery and revels in its colourful illicit whisky-making past and farming heritage t various historical attractions, such as the Hokonui Moonshine Museum, Gore Historical Museum, and the Hokonui Pioneer Village and Museum. 
The town lies on the banks of the Mataura River. The river is a fisherman's dream with nearly 150km of easily accessible waters internationally renowned for brown trout fly-fishing. It's no wonder the activity has been popular in the area since the 1870's and Gore is now known as the "Brown Trout Capital of the World"! Hard to miss, the large brown trout statue in Gore is a national icon and is photographed by thousands of tourists each year.
Gore also has many stunning public parks and gardens, perfect for family picnics, sports, and recreation. The impressive Gore Multisports Complex, comprised of an aquatic centre, an ice rink and an indoor sports stadium, offers sporting and fitness activities and events all year round. The town's main street is littered with colourful shop windows offering you whatever you need for your foodie or shopper heart. 
The town of Mataura is known for its historic paper mill and freezing works. The freezing works is still operating today and is known to be the largest freezing works in the country. Edendale is home to a large Fonterra dairy factory - one of the region's biggest employers and the largest raw milk processing plant in the world. In spring this town really comes to full bloom as most fields are part of a tulip farm. There are more than 30 varieties of vibrant tulips planted in the fields. It's the country's largest tulip bulb producer and exports its beautiful blooms to various countries around the world. Keep your eyes open for the announcement of Tulip Open Day, your Instagram feed could never go wrong with selfies at the tulip farm! 
Waimumu hosts the biennial Southern Field Days, where farming businesses have been promoting rural technology and services since 1982, and it's a fun day out for the whole family too! A drawcard of the peaceful settlement of Wyndham Mokoreta is the tranquil Maple Glen Gardens, a 30 acre private garden, nursery, aviary, woodland and wetland. And in Mandeville, you can view a spectacular collection of vintage aircraft – perhaps even taking to the skies on a thrilling scenic flight in one of the restored planes
Discover more about Gore District at GoreNZ.com.
Gore District offers a range of accommodation to suit any visitor, from hotels and motels, to more unique and intimate experiences at B&B's and homestays.
As the hub of the district, Gore offers plenty of restaurants, cafes, bakeries, and bars to suit every occasion. A tavern can be found in nearly every small town and Mataura is home to a great café nestled…
Gore District has lots for visitors to see and do, with fishing being one of the most popular! From scenic reserves, parks, and gardens, and various areas for sport and recreation, including golf courses, mountain…