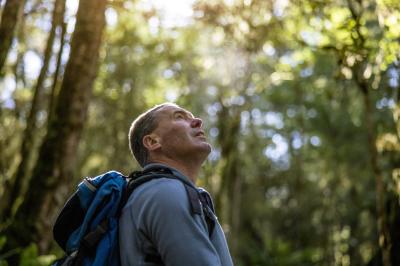 For the Trips & Tramps team, sustainable tourism and conservation education are woven into the tales they tell out on the tracks.
The power of this storytelling — who they are and what they stand for — resonates without people feeling like they're being lectured. And this is reflected in the reviews they receive.
"Your local knowledge and enthusiasm for the environment is great and made for a memorable day," one review glows.
You might think the Te Anau-based business, run by Kate and Steve Norris, goes to great lengths to generate great feedback on their guided trips, and they do, but Kate says a lot of it's in the storytelling.
Something as simple as pointing out the pink triangles on trees signposts a story about stoat trapping efforts in the World Heritage Area — work they've been involved in since 2003.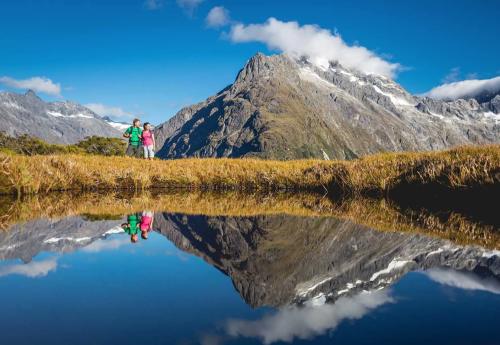 For more than 30 years, Trips & Tramps has been guiding small groups to Milford Sound and on Great Walks. Kate and Steve are intimately involved in daily operations, from guiding and transporting through to the many logistics of trips into a wilderness terrain.
They like to 'keep it real' and believe in providing unique and genuine Kiwi outdoor experiences, and they are fully committed to a sustainable future.
Kate says they look at their business and the impacts it has and think about their place on Earth. Then they think about their four kids and the world they are inheriting from the previous generations.
"It's important to do what you can do, even if it's a small change; it's all taking us forward."
Improving the social, cultural, economic and environmental well-being of the Fiordland community in which they operate is an important part of the story they tell their clients.
Among Trips & Tramps' many community contributions, two stand out: Coal Island Trust/ Te Puka-Hereka and the Kepler Challenge Mountain Run Trust, which are both charitable organisations dear to the Norris' hearts due to their long involvements.
Since 2018 they've been measuring their carbon emissions to work out the actions needed to offset the impact of their operation. The goal is to offset emissions with local planting schemes to protect and expand the native forest and waterways – and in 2020, they donated 100 plants to the Fiordland Trails Trust to support the Lake 2 Lake Trail.
Covid has skewed the baseline emissions measurements, but Kate says they've learned so much already, including how to measure third-party emissions and have an idea of the number of trees they need to plant.
It's not always easy as life is busy, but awareness is the crucial first step, Kate says. "It's really important to get other people thinking about the little steps they can make and talking with one another."
Their journey towards a more sustainable future is evolving, with an idea around a client-funded Fiordland conservation project bubbling away.
"When you do what you're passionate about, it's so much easier to run your business well."
They want to be as transparent as possible to help share their knowledge and what they are learning along the way — hopefully motivating other businesses to begin their journey.
"Every business is different, but when you start getting community organisations and businesses taking actions, it's got to be a good thing," Kate says.
With 30 years' experience guiding small groups through Fiordland, join us for a truly unique experience of this world-famous area. Our guides are friendly and down-to-earth, you'll love their fascinating commentary and entertaining…