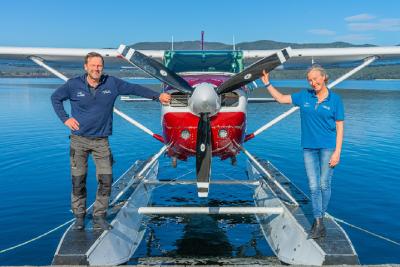 If people come away from a Wings & Water experience with an understanding of kaitiakitanga, Kylie Krippner feels like it's a job well done. Floatplanes have been operating on Lake Te Anau since 1957, and pilots Kylie and Ivan Krippner have been at the controls of 'Fiordland By Seaplane' Wings & Water since 2015.

The couple, who have two daughters, have incredible back stories - Kylie being the first New Zealand woman to ski to the South Pole as part of a group of seven women in 2009, and Ivan as an aerobatic airshow display pilot.

The couple embraces kaitiakitanga when they are with clients, and Kylie says people can feel the care and connection they have for Fiordland.

"In New Zealand, we're inherently really good at telling our story. Kiwis love to share, and people definitely pick up on that when they come to our country."

Wings & Water offer a wide range of scenic flights over the glorious expanses of Fiordland. Flying is their passion, and it presents them with amazing storytelling opportunities about everything from bird sanctuaries, conservation trusts carrying out fantastic projects, the preservation of endemic species — and of course, the role everyone who lives and visits has. as guardians, kaitiaki of a World Heritage Area.

"Fiordland has such a unique bird story, and the biodiversity is incredible as well. People really enjoy seeing how special it is to us and the importance we put on it. They leave with new, special knowledge."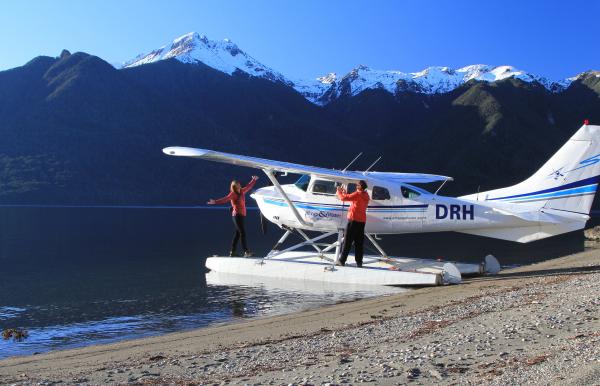 Highlighting their sustainability beliefs and practices through a website overhaul proved beneficial with an immediate jump in bookings, Kylie says.
"It was nice to hear directly from Kiwi clients that sustainability mattered to them, and it will become more and more important in the future."

They began calculating their carbon footprint in 2022 using the Ministry for the Environment worksheet and will continue to fill it in each year to build their baseline. After a super busy 2022-23 summer season, Kylie expects their carbon emissions to rise significantly after reduced flight hours during the pandemic. Looking after their equipment, running planes as efficiently as possible, and keeping up with technological advancements on the aviation horizon — specifically biofuels and electric planes — are the main sustainability challenges for Wings & Water.
"Our biggest emitter is from fuel, and until Avgas Biofuel is more readily available, our reductions will be limited. But the whole world is working in that direction, and it will come. We're poised and waiting to see how things develop."

They have implemented a waste weight monitoring system and waste separation and are turning off non-essential electrical devices nightly. Kylie says there are many small things people can do in their daily lives that make a difference, like making lunch at home, cutting down on packaging, and minimising travel where possible - all of which will contribute to reducing their environmental footprint and offsetting emissions.

The pandemic inadvertently created another remarkable opportunity for Kylie, who coordinated the Jobs For Nature' Fiordland Buffer Zone' project when the borders closed. The weeds Cotoneaster and Darwin's barberry were identified as significant threats to the Fiordland's biodiversity. Kylie oversaw the removal of hundreds of thousands of seeds and plants to help protect the national park from invasive pests. This community focus is crucial for Kylie and Ivan, and they relish the opportunity to speak to local groups and schools about their adventures and vision of a more sustainable future.

"We all want to give back in our communities — conservation-wise and community-wise."
Fiordland National Park is one of the most beautiful places on Earth! Sit back, relax and let us show you the sights in the best way possible - by air! We are an approved air charter business and provide scenic flights and transport…