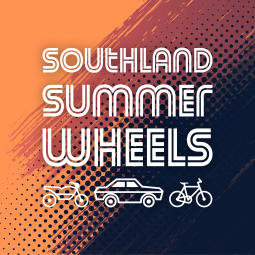 ​2023 Guide
Southland Summer Wheels
Celebrating Southland's 'wheely' good events speeding into action from January to March
Calling all riders, drivers, & classic car revivers! Did you know that Murihiku is the ultimate destination for a wheely good summer? You bet  your lucky 'cars' it is!
Gears will be grinding, engines cranking and wheels flat-tack spinning all throughout Southland's stunner summer. Check out our numerous wheel-tastic event opportunities to immerse yourself in below!
Whether it be hot rods, motorbikes, skate jams or tractors, Southland has whatever spins your wheels, tyres and treads.
Of course, we are only 'tread'ing the surface, so be sure you discover all of what Southland Wheels has to offer right here.
Wheely Good Activities & Experiences