Southland is a haven for whitebait enthusiasts, both locals and visitors alike.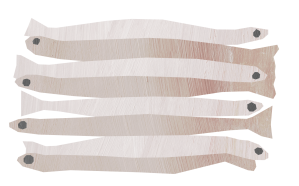 As you journey through scenic rural Southland, keep an eye out for the charming "whitebait huts" dotting the region. Whitebait is no ordinary fish; here in New Zealand, it's a special term for five galaxiid species adorned with skin patterns resembling a celestial galaxy. It is dubbed galaxiid because of the patterns on the skin of adult fish that look like a galaxy of stars. Although galaxiid species are found in many places in the Southern Hemisphere, the banded, giant, and short jaw kōkopu only exist in Aotearoa, New Zealand. 
The tiny sea creatures that are found in Aotearoa are known to be quite the delicacy for kiwis and visitors. And here's the scoop: Southland is a haven for whitebait enthusiasts, both locals and visitors alike. "Whitebaiting" is a beloved recreational activity here. The season runs from September 1 to October 30, so ready your nets for a delectable whitebait adventure or try a whitebait patty at a local cafe!
Whitebaiting season
The whitebait fishing season takes place from 1 September to 30 October throughout New Zealand (except for the Chatham Islands, where it's from 1 December to the last day of February). In 2022 the season was shortened by six weeks, an important step toward sustainable whitebait fishery.
Fishing is only permitted between 5:00 am and 8:00 pm or 6:00 am and 9:00 pm when New Zealand Daylight Saving is observed. The taking of whitebait at all other times is prohibited.
New Zealand whitebait are caught in the lower reaches of the rivers using large, open-mouthed, hand-held scoop nets, long sock nets, or rigid, typically wedge-shaped set nets.
Whitebait Fritters
Enjoy a Kiwi classic with this recipe for whitebait fritters. Serve with a squeeze of lemon juice and white bread smothered in plenty of butter.
Ingredients:
250g whitebait
3 Eggs - 2 yolks and 3 whites
1 serving of butter to fry
1 serving of oil, to fry
2 slices fresh bread, whichever your favourite is
1 squeeze of lemon juice to serve
Original Recipe by Kris Boult - Stuff
Method:
Mix whitebait and egg yolks in a bowl with a little salt and pepper.
Whisk the whites in a separate bowl until almost firm but not dry, and gently fold them into the yolk/whitebait mixture (key - don't stir the whites in too vigorously, gently does it when mixing the two together, or you'll lose all the air from the egg white).
Heat up a frying pan, add some butter and olive oil (just enough to stop the butter from burning) and dollop spoonfuls of the whitebait mixture into the hot butter. 
Fry until golden on both sides and jam the fritter into some freshly buttered bread, or just eat by themselves - with a dash of lemon juice. 
Enjoy!